Laing O'Rourke, the main contractor for the £1 billion Edinburgh St James project, has completed its first year onsite, as demolition work approaches anticipated completion in the new year.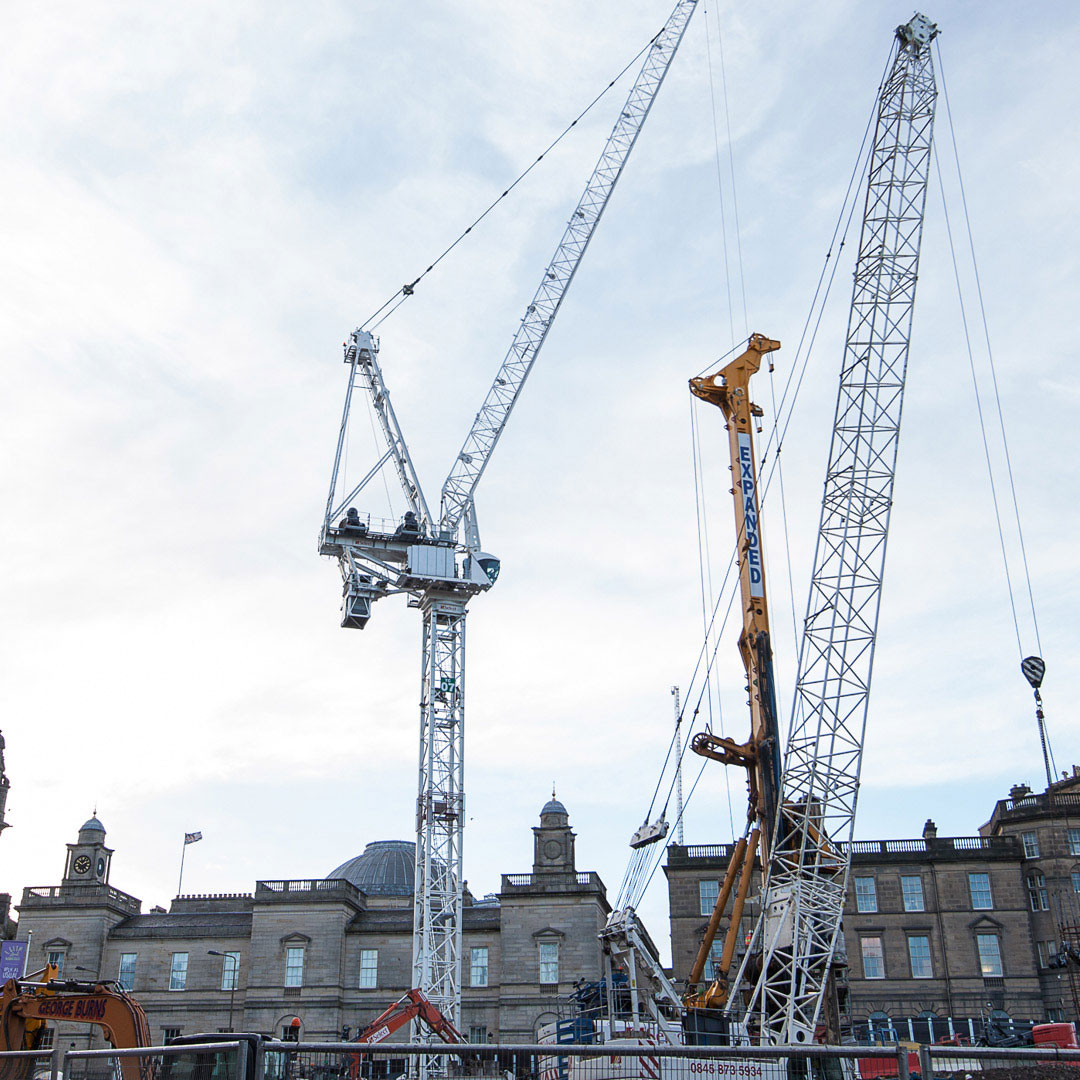 Appointed by TH Real Estate in 2015 on a consultancy basis to advise on pre-construction work, Laing O'Rourke was subsequently appointed as the main contractor for the landmark 1.7 million sq ft project in October 2016, with demolition work commencing in the same month.
Demolition of the former St James Shopping Centre and carparks has now been completed, with work ongoing at the former Scottish Government building. Piling activity is also progressing and the main basement excavation works have commenced.
Over the first year of work onsite, numerous targets set out by Laing O'Rourke as part of the scheme's sustainability and implementation plan have been reached. From the start of demolition in October 2016 to now:
Environmental Impact
Over 96% of demolition waste diverted from landfill (% non-hazardous construction waste diverted by weight)
Over 19,700 tonnes of material from demolition recycled and reused onsite for construction purposes (including piling mats around site and construction fill). This is the equivalent of 13,133 small family cars (1.5 tonnes each) or 164 blue whales (120 tonnes each)
Curriculum Engagement, Employability and Training
Over 1,300 people inducted on site, 1,000 of whom (79%) live within 100 miles of the project
Over 200 days work experience provided (from a combination of schools, universities, graduates and those not in education or training)
Over 260 students from 27 different schools, colleges and universities engaged through the project's curriculum engagement activities and work experience opportunities (including engineering, sustainability, digital engineering and construction activities)
10 Design Engineer Construct! lessons supported at Drummond Community High School by members of the development team, from architects to digital engineers and landscape architects to building services engineers
Sustainability
Over 390 hours of volunteering carried out by members of the project team (including for Edinburgh Children's Hospital Charity's Calaréidh respite centre and Edinburgh City Mission's Care Van)
Over £6,000 donated to charities by Laing O'Rourke and supply chain companies working on the project
Over 900 items (including warm clothes, food and toiletries) donated by the project team to various charities
Martin Perry, Project Director at Edinburgh St James, comments:
"Good progress has been made by Laing O'Rourke onsite over the last year, ensuring that we remain on track to open to the public in 2020. Alongside demolition work, we have also been delighted with the hugely positive impact that Edinburgh St James has already had from a local perspective. The project has created new employment and apprenticeship opportunities, supported local businesses, charities and suppliers, and worked with local schools, colleges and universities to support education initiatives. We look forward to continuing the good work in the year ahead."
Cllr Gavin Barrie, Housing and Economy Convener, City of Edinburgh Council, comments:
"This is a major redevelopment which will transform the city centre of Edinburgh and is bringing a tremendous boost to the city's economy. A year on it is very encouraging to see the great progress being made on the project. Upon completion, it is anticipated it will create 3,000 full-time permanent jobs and local people and businesses will benefit from the creation of these valuable job opportunities."
Tim Kelly, Project Director at Laing O'Rourke, said:
"From day one we've been aware of our responsibilities to manage such a complex city centre project, one which will make a big impact in Scotland's capital in 2020. In keeping with a 21st century approach, we've been able to divert almost all of our waste materials from landfill, recycling the equivalent of 13,000 small family cars worth of waste to be reused on site again.
"As we reflect briefly on year one, it's great to not only complete demolition of the previous site but also be able to give residents an update on the numbers of local people we've employed, to highlight where we're working with schools, universities and graduates, continuing to provide volunteering and work experience opportunities. These include Edinburgh Children's Hospital Charity, Calareidh respite centre, and the lessons our architects, digital engineers and construction team have taken part in at Drummond Community High School."
The retail and leisure element at Edinburgh St James is anticipated to complete in 2020, followed by full scheme completion in 2021. Designed by Allan Murray Architects, the development will comprise 850,000 sq ft of shopping space, 150 new homes, Edinburgh's first Everyman cinema, and the UK's second ever W Hotel.